When you have an occasional large lot of papers for shredding, the regular shredder is not enough, we offer commercial grade paper shredders on rental for such requirements. For businesses that need a fast and affordable paper shredding service, renting a paper shredder machine can be the perfect solution. With our paper shredder machine rental service, you get access to high-quality machines at competitive rates. Our machines are designed to provide fast and efficient service so that you can get your task done quickly without compromising on quality. We also provide excellent customer support to ensure that all your needs are met with ease. So if you need a reliable and cost-effective paper shredding service, look no further than our rental services!

SASCO Paper Shredder Machine Rental Service for any quantity of old documents onsite at your office, as well as for large quantities in very large INDUSTRIAL paper shredder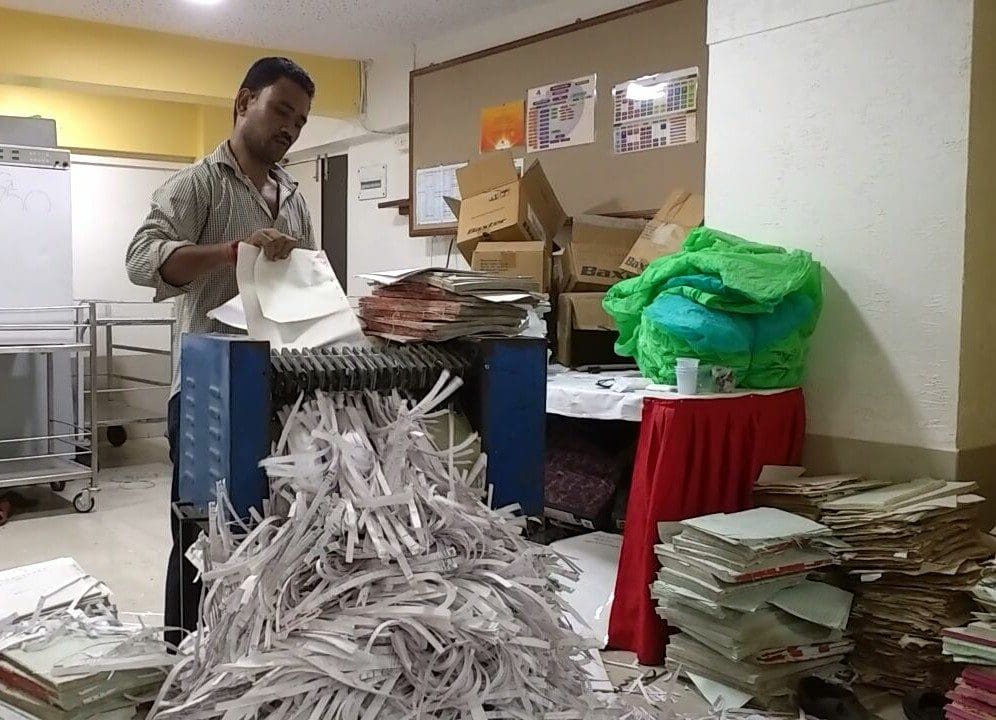 For your confidential paper shredding you need a reliable partner with a complete range of shredders, small as well as big machines that can be moved onsite as per the quantity of old documents at customer location, to complete the job in the least possible time.
We also manufacture these industrial paper shredders, so if you are thinking of buying a machine, pl give a us a call on +91 98200 20755 for details of different models and capacities Etc.
For businesses, a paper shredder machine rental service is the most ideal way to ensure that confidential files/documents are securely shredded and recycled. Rather than investing in a heavy duty shredder that may only be used once, business owners can rent a shredder for the specific period of time so get the job on hand done. This saves money and also comes with an entire package where SASCO comes with the machine and people also to do the shredding for you. Thus using this service is the perfect way to dispose the unwanted papers, creating valuable place to store current files. So why buy a shredder when professional shredding services is available. If needed you can take a small paper shredder for regular office use.